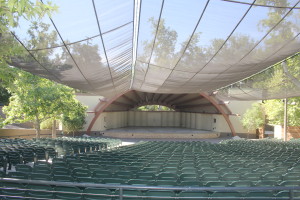 The Ojai Pops Orchestra is now recruiting orchestral musicians.  The initial rehearsal will take place in Libbey Bowl in Ojai, CA on Sunday August 21, 2016.  Rehearsal time is 3:15 pm to 6:30 pm with a 2 breaks.
The orchestra will bring together musicians, conductors, and composers to play Pops music in a full orchestra.  We will play showtunes, jazz, movie music, new scores, and more.   Libbey Bowl is home to the world famous Ojai Music Festival.  Ojai is a spectacular small town.
Performance level required:  Intermediate to advanced orchestral musicians such as college music majors, music teachers, and other adult musicians and students.  Must be able to sight read well.
Sign up for our mailing list for updates, specials, and new information.
Join us on Facebook.
The Ojai Pops Orchestra Workshop is sponsored by Music 4 Kids, a 501(c)(3) tax exmpt nonprofit organization.